En oväntad syn
Posted by LimaPer
Nov 2
VAknade upp på söndag och käkade lite frukost, skulle möta en kompis (Yehuan som jag tidigare i höst åt groda tillsammans med) för lite lunch men hungrig som jag oftast är så tog jag en macka under tiden. Då hon ringde så lät hon lite förvånad och undrade om jag hade kollat ut, hade jag så klart inte då jag ej ville störa min som alltid sovande spanjor. Kollade ut och möttes av ett rejält snöoväder och 10 cm snö på backen, det hade verkligen slagit om fort och snön hade lagt sig.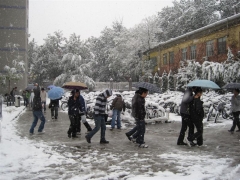 Både kul och lite jobbigt då de fortfarande inte har slagit på centralvärmen (är staten som bestämmer när den slås igång men det ryktas om mitten av november) då snön helt klart bidrar till att sänka temperaturen ytterligare. I väntan på att mötas upp kilade jag ut och kastade den (för mig) traditionsenliga snöbollen som alltid kastas vid första snön. Det var endel studenter ute och gjorde snögubbar, kastade snöboll och fotade sig i snön.
Woke up on sunday and had some breakfast before i was going to have lunch with a friend. When i looked up i got really surprised, it was snowing a lot and it was about 10 cm of snow on the ground.  While waiting to meet up for lunch i walked out, there was a lot of student throwing snowballs and building snowmen. I did my yearly tradition and threw my first snowball as I do every year when the first snow comes.
Its both positive and negative with the snow, i like the snow but at the same time it lowers the temperature a bit more. I have no problem with it in Sweden but here they still havent turned on the central heating so its very cold inside, have heard that they will probably do it around the 15 of november so still a long time to freeze.